LAS VEGAS, NEVADA, UNITED STATES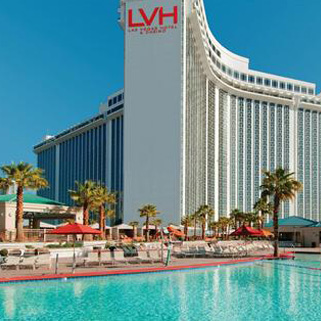 PROPERTY FACT SHEET
The Westgate Las Vegas Hotel & Casino is an iconic hotel located one block off the famous Las Vegas Strip. The property is home to nearly 3,000 guest rooms, 275 of which are suites, including the Sky Villas which represent three of the largest and most magnificent suites in all of Las Vegas. They range in size from 14,000 to 17,000 square feet and each feature a garden and private pool.
The gaming floor space is approximately 74,000 square feet, the casino has approximately 940 slot machines and 27 table games, including poker. The LVH "Superbook," at 30,000 square feet, is the world's largest race and sports book. The "Superbook" can broadcast over fifty sporting events from around the world at any one time.
CASE STUDY
In 2012, Goldman Sachs (multi-national investment firm with 2012 net revenues of over $30 billion) contacted Navegante in connection with the impending foreclosure and sale of the LVH - Las Vegas Hotel & Casino. The investment firm was searching for a group that could quickly become licensed by Nevada regulators and had the experience necessary to be able to oversee all operations, both gaming and non-gaming, at the property.
Navegante was a perfect fit, and in a very short period of time, was able to obtain a non-restricted gaming license and create a comprehensive transition plan to facilitate a smooth changeover of ownership, including working closely with Union representatives to honor contracts and keep the day to day operations running without complications.
Navegante has put in place a new executive casino team with the first priority of fixing the table game hold percentage. Table game hold percentage year over year results improved 2.7% through September 2013, or a percentage improvement of 23%. Navegante ramped up casino marketing by assembling a staff of seasoned hosts and slot revenue growth is occurring as unprofitable events and tournaments are discontinued. Navegante's operational initiatives led to a $7.2 million year over year EBITDA improvement for the quarter ending March 2014. The property was purchased by Westgate mid-2014 and re-branded as the Westgate Las Vegas Resort & Casino. Navegante continues to manage the casino.