LAS VEGAS, NEVADA, UNITED STATES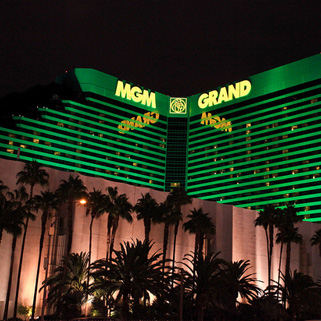 PROPERTY FACT SHEET
Larry J. Woolf was Chairman, President, and CEO of the MGM Grand. He was responsible for the design, development, management, and operations of all aspects of the world's largest fully-integrated resort hotel / casino. The MGM Grand was the first casino investment of over $1 Billion. The hotel boasts over 5,000 hotel rooms, five outdoor pools, a convention center, the MGM Grand Garden Arena which hosts a variety of events from concerts to sporting events, along with numerous dining outlets and nightclubs. The casino floor is the largest in Las Vegas at just over 170,000 square feet featuring 3,500 slot machines and 170 table games.
CASE STUDY
The MGM Grand was the first drug-free workforce in Nevada, requiring all potential employees to pass a pre-employment hair drug test as part of the hiring process. At the opening of the resort there were 9,000 trained, drug-free employees. The culturally diverse staff was also trained to manage responsible gaming. The casino was also the first in Nevada to offer coin-less slot wagering, with 400 machines offering the "ticket-in, ticket-out" technology.
Mr. Woolf established a world-class entertainment program, a worldwide casino marketing organization, and was responsible for the design and development of the MGM Grand Casino Hotel Darwin, Australia and the New York, New York Hotel and Casino in Las Vegas.